30.12.2016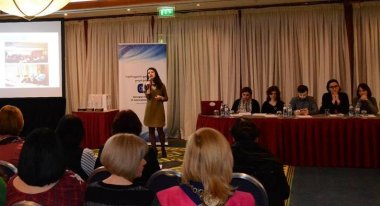 Annual reports were presented by the executive director and chairman of the revision commission. The members listened to the director's account on the yearly activities implemented by the Charter. The annual report was also handed to the attendees in the written form.
Three members of the Charter's Council have expired their authority. These were: Nino Zuriashvili, Irina Kurua, and Nino Narimanishvili. Members of the Charter were supposed to select three new members - 1 by capital quota and 2-by regional quota. The general meeting selected Giorgi Mgeladze (journalist for Monitor Studio) through capital quota, Tamar Uchidze (journalist for Southern Gate) and Tea Zibzibadze (editor of Kutaisi Post) through regional quota.
Giorgi Mgeladze became the chairman with the decision of the Council members.
The Charter's current composition:
Giorgi Mgeladze
Maia Metskhvarishvili
Tazo Kupreishvili
Nino Japhiashvili
Tamar Uchidze
Tea Zibzibadze
Jaba Ananidze
Geronti Kalichava
Maia Mamulashvili